At home, kids can review and practice what they learn in class playing Escribo Play games! For that to happen, teachers can schedule these activities as fun homework for their classes directly in the app's Assignments menu. The app has different visuals for educators and families, so we made a mini-guide that shows how everyone can make the best use of the platform!
Families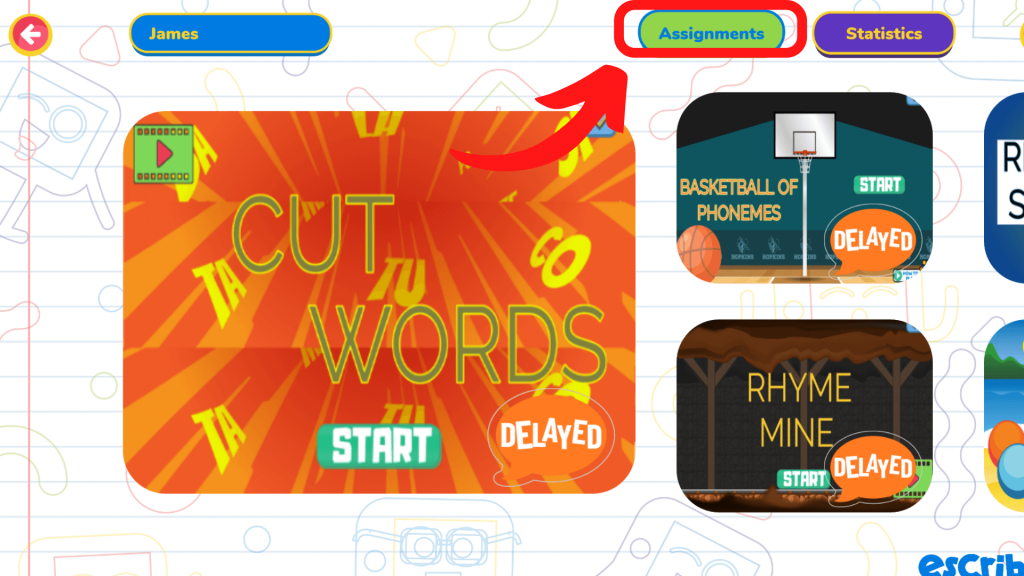 In the game selection screen (main screen), tap Assignments on the upper right corner of the screen to see the full list of assigned games. The main screen also shows you all the new, recent and delayed activities.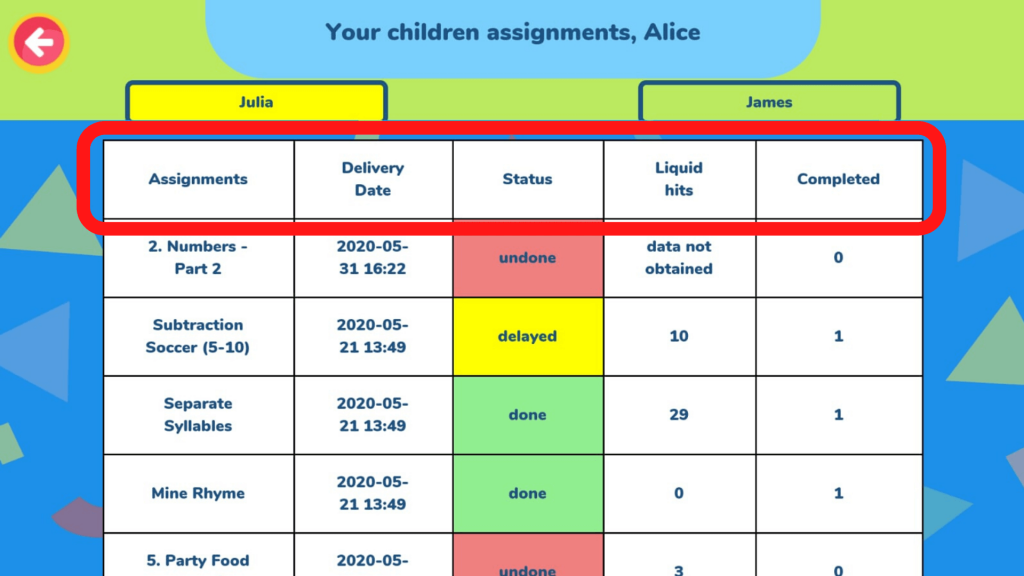 You'll find the deadlines (assignment delivery dates), the number of net hits (correct hits minus mistakes) and the number of times the kids completed the games (played them until the end). To complete an assignment, the child needs to reach the Final Screen that shows a virtual medal. You can also know whether the kids did the homework on time (marked in green), after the deadline (yellow) or if it isn't done yet (red). Touch the name of the game in the Assignments column to open it.
Schools
To schedule assignments, the teacher must touch the Play without sending data button.
Then, on the game selection screen, tap and hold a game and, when the window depicted appears, choose the deadline and which classes will receive the assignment. Touch the name of the class to make these changes. Tap Confirm to schedule and send the families a notification about the assignments.
Teachers' access to the Assignments menu also appears on the upper right corner of the game selection screen.
This menu shows the scheduled games, scheduling dates and deadlines for these activities. From there, teachers can follow two paths: they can either touch the name of the game to access the children's learning progress or select the Assignments Board, on the upper right corner of the screen.
Touch the name of the game to see the assignment status for each child (done, done after the deadline or not done). Net hits (right answers minus wrong answers) and completion number (number of playthroughs) are also shown.
In addition to listing the progress of the activities, the Assignments Board also shows the percentage of class students that finished all assignments. Schools can then identify which classes show higher adherence rates and those who need more attention.
Are you still having problems or questions? Text us on our Contact us section or via WhatsApp with this link. And remember to tap the small blue bell, subscribe to Escribo's Learning Science Blog to receive our posts in first hand!